Daily Message
Date and Times given in Eastern Standard Time

02 Wednesday April 27th - Moon enters Gemini 9:40 PM
Venus ingress Aries Friday April 28th 9:14 AM
Shocking words can be flying about. Unexpectedly someone says something which can be unusual, especially coming from them. Caution is noted for operating machinery, intend safety when operating machinery, includes driving your car. Although the outburst may be spontaneous the content of what is said will be associated with an unresolved issue an individual has been living with. In some cases it can be like a volcano erupting. Ideally the individual will be able to focus on what they need to bring security and comfort into their lives. In this case it is ideas, and the sharing of information, which can create this security. There is a need to keep it simple as the individual who seeks security needs it to be foundational security on the most physical level. So farfetched ideas or unachievable ideas are not going to feel good right now. The focus is on what is real and doable in order to bring security into one's life. Venus will ingress Aries during this Taurus Moon transit. The attraction to feeling and being compassionate will shift for many, the focus and desire switches to getting a move on. It may seem as if some information needs to be shared or relayed in order that one can maintain or achieve stability in their life. Something to quite the mind may be necessary. Much internal dialogue can occur. Again the key is to keep it simply and stay close to the Earth. Being close to nature in a loving way can sooth an overly aggressive mind.
New Message Begins April 29 2017 9:49 PM
The Daily Message is taken from the current PathfinderReport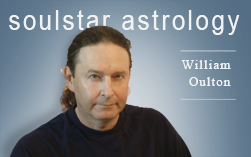 Astrologer * William Oulton
Next New Moon
26 Days, 10 Hours, and 18 Minutes.