Daily Message
Date and Times given in Eastern Standard Time

10 Tuesday January 17th - Moon enters Libra 6:17 AM
Sun ingress Aquarius Thursday January 19th 12:40 AM
An increase, or perhaps decrease, in relationships and partnerships is occurring for many since last summer. This will carry on through to next summer. There is a growing optimism as to the potential and viability of new relationships. For some it may be expecting a relationship to be grand and shinny yet if it fails to be so extraordinary the need to terminate can occur quickly as well. This is related to the fuel that optimism can inject into these well expected relating experiences. A way to comprehend this dynamic for the individual is to pay attention to the amount of personal energy, the get up and go energy, that changes as the individual relates to a specific person. An individual may assume or entertain themselves with a relationship idea and instantly feel an increase in energy, and then project this scenario on another. Yet the realism verses blind assumption will ultimately come out. It is during this transit, Moon in Libra, that the real situation and feeling about a relationship, or potential relationship, can be fleshed out. In the last few years there are lots of individuals who one may know socially, or hear about, who are getting really charged up and bold, motivated by what they feel are their natural social rights. These individuals can act suddenly and unexpectedly, even in their own terms they surprise themselves. It is this social dynamic which is stirring up and creating an interesting dynamic as their sudden actions affect the more personal partnership explorations of others. For example some recently developed partnership may be challenged or terminated when a local social hot head destroys the premise on which the partnership was based. The harmonizing factor here is the exposure many are currently having to the feelings and challenges of others. Once the individual is able to accept the pain that others are experiencing, locally and globally, by allowing these people the space they need to play out their own karma, they will avoid social dynamics and partnership naivety. In many cases new partnerships which can have a sustained and harmonious future are being created right now.
New Message Begins January 19 2017 5:10 PM
The Daily Message is taken from the current PathfinderReport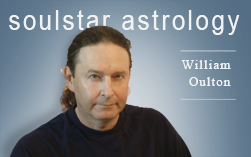 Astrologer * William Oulton
Next New Moon
8 Days, 7 Hours, and 13 Minutes.