Daily Message
Date and Times given in Eastern Standard Time

04 Monday January 22nd - Moon enters Aries 1:28 AM
In order to proceed with one's valued agenda some action at home base is required. Some social or community matter may be causing a reaction at home. A need to take some action can feel daunting, even if the purpose or reason is unknown. It may be necessary to focus on keeping one's reactions constructive. A sense of urgency can be felt. What it is about may be known yet it may not be as well. Some social boundary may get popped and an unexpected train of events begins. The need to take control of a shared value, as in property or a contract, can be the avenue by which one's impulsiveness vents. Some may be feeling amplified sensually and feel they want to express this. The matter involving a revolution of grand nature which is an ongoing process (2009 - 2024) may be connected to actions now as well. If this is so again the actions will involve shared values and security. What is believed to be really important in terms of security, on the community or social level, may be the realm in which the actions are triggered or affected. This can have a lot to do with control. Also in the mix is how one has unknowingly allowed themselves to be defined by some social belief. As this becomes revealed to the individual a sense of freedom bottled up with pride and dignity can again trigger actions. Innocently the actions are connected with one's well intended agenda and the pushing forward of this plan, who was to know that some past beliefs and issues would be connected?
New Message Begins January 24 2018 8:41 AM
The Daily Message is taken from the current PathfinderReport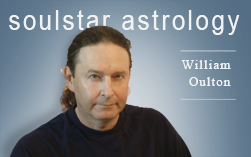 Astrologer * William Oulton
Next New Moon
22 Days, 15 Hours, and 57 Minutes.