Daily Message
Date and Times given in Eastern Standard Time

02 Tuesday July 25th - Moon enters Virgo 5:33 AM
Mercury ingress Virgo Tuesday July 25th 7:42 PM
Time to be practical. The self motivated perhaps ambitious individual, is getting somewhat of an energy boost. The wants of the ambitious can flood into many relationships, with logic and reasoning set to justify desire. Logic can be spun and re-spun until the individual can justify going after their desire. Understanding one's specific passion can ease all the calculation yet here where the action energy is through the roof it may be a situation where the individual must witness themselves going after their desire. And it is thru this self objective observation the individual can clearly see how they are driven by a specific desire. The strength and motivation some individuals feel to take action and go after their desire can be well used, as if they were simply standing by waiting for the correct time to move. The Moon in Virgo can cause some to question and requestion their plan or approach. The criticalness they demonstrate can be connected with their sense of feeling increased security. Mercury will ingress Virgo Tuesday evening which can repair logic driven from the panic logic indicated by the lunar ingress. The Moon's influence on one's logic, the panic logic, is however far from being a negative thing. In fact it is quite the opposite. It can flesh out the area the individual is most in need of looking at, yet for this to occur the individual must be astute to nature of their feeling self, they must realize and follow the truth of their emotional vulnerability.
New Message Begins July 27 2017 11:38 AM
The Daily Message is taken from the current PathfinderReport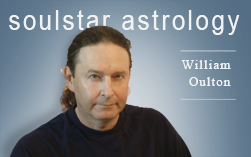 Astrologer * William Oulton
Next New Moon
27 Days, 2 Hours, and 4 Minutes.